Purrfect Play Every Day🐾
Calling all cat lovers! Embrace the joy, love, and laughter that only cats can bring into our lives. 🐈
🎊From their playful antics to their comforting purrs, cats add an invaluable touch of magic to our days!
Let's come together to celebrate the beauty of cats and their unique ability to brighten our lives. 💕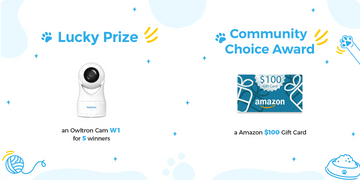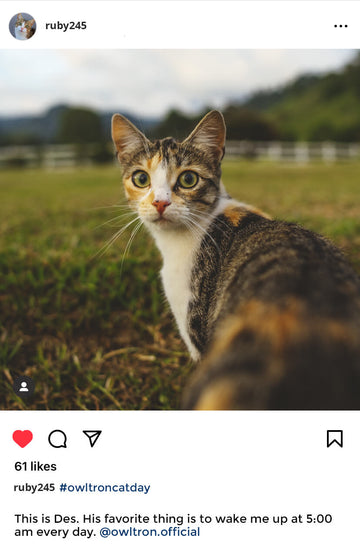 Follow @Owltron.official.
Share a photo of your kitten with a grid post and tag @owltron.official in your caption.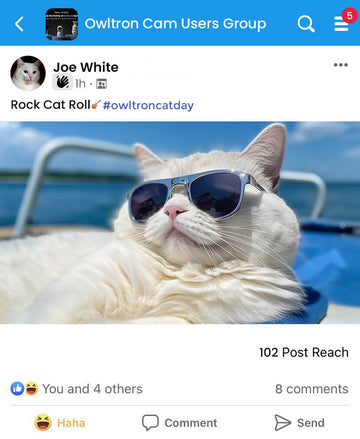 Follow @Owltron.official.
Share a photo of your kitten in the comment.
Community Choice Award
Sync your posts and photos in Owltron's Facebook Groups with #OwltronCatDay, you will have a chance win a $100 Amazon Gift Card.
International Cat Day Giveaway
Curious about how to join in? Wondering what to post?
Any snapshots of your own cats are purr-fect, and we're calling all cat lovers to join in! 🎉
😸Your kitty, your family's feline friend, even your office's cat - all whiskered wonders are invited to this fabulous celebration.
Just be sure to use photos or videos you've taken yourself, and let's make this a meow-tastic party together! 💕
Want to join the Community Choice Award?
🏆 Here's the purr-fect way to win:
1️⃣Share your adorable kitten content to Owltron's Facebook Group.
2️⃣Tag it with #OwltronCatDay (don't worry about uppercase or lowercase!).
3️⃣Gather those likes and comments! The post that gets the most love during our campaign will win the prize. 
4️⃣And the rewards? An Owltron Cam W1 and a $100 Amazon Gift Card are waiting for the winner!  Let's make this a meow-morable celebration!
Can I enter more than once?
You can post your content multiple times on Facebook or Instagram. 📸
Sharing Facebook posts and forwarding Instagram stories are fantastic ways to rack up extra entries. 🎈
Just remember, only the post with the highest engagements will count toward the Community Choice Awards, and the engagements from different posts won't be added together. 
So, go ahead and share those adorable moments as many times as you like! 
When will the lucky winner be revealed?
🥳The winners will be unveiled on August 9th, right on Owltron's Instagram story and Facebook group. 
If you're one of the lucky winners, don't forget to direct message (DM) Owltron within 48 hours to claim your fabulous prizes. 
Looking for an extra surprise?
Owltron's Facebook group have lots of community benefits. 
Share Owltron-related content in the group with #OwltronNewbie, you would get a one-month Cloud Storage trial! 👏
See Features post in the group for details.
Follow Us On Social Media!
Following us on social media gives you access to our public updates on various topics and we often post fun or interesting ways that you can use Owltron products. Check us out!